My Works
All knowing, everlasting creatures on a planet in another galaxy in the universe find that Earth is in trouble with its wars and environmental destruction. They send someone to teach Earthlings how to live better lives, but the someone is a young, inexperienced youth.
The beautiful white Arabian stallion in the field behind the run down house Dad has bought becomes Corey's best friend. He is her only friend until the loneliness she suffers from her parents separation is relieved by Amy, a school friend whose autistic brother also develops a relationship to Handsome. The problem is the horse's owner has plans that will take him out of Corey's reach.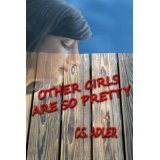 There on the dock several boys have professed their love for Emily's beautiful older sister. Her two girlfriends have each won a tribute as well. Is good looks all that matters to boys?
It seems so for the new boy, but Emily sets out to help him overcome his problems anyway just because she likes him. What happens next is her reward.
When Lainey doesn't get the horse her father promised her for her thirteenth birthday, she offers to work at a nearby riding stable in exchange for free riding time. She's given the task of training a stubborn horse that won't go more than a quarter of a mile with a rider. Noone thinks she can do it, but her success is spectacular and the results please everyone.
Twelve-year-old Wally's older brother, Jon-o, has been killed in an accident. But his spirit reappears when Wally least expects it to give his younger brother advice and support.
Wally needs all the support he can get, for his father is dead, too, and domineering Aunt Flo has come to spend the summer with Wally and his bereaved mother. Wanting to be like the daring Jon-o, Wally tries to become good enough at skateboarding to enter a neighborhood competition. His mother is opposed to it, but Jon-o's ghost eggs Wally on. When the day of the competition arrives, nothing goes the way Wally had planned. Will he ever manage to equal Jon-o's success in athletics and with people?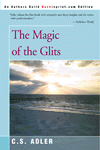 Jeremy is sure his summer at Cape Cod is going to be terrible. It's bad enough having a cast on his leg that means he can't run or swim or enjoy the beach with his regular friends. But to be stuck taking care of a dumb seven-year-old girl, while his mom is busy painting and his father is back in the city - he can't think of anything worse.
Once she has arrived, though, Jeremy has to admit that Lynette isn't bad company. To entertain her, he invents the Glits, magical creatures who can grant wishes. When he learns that her mother was killed in an accident and that her stepfather doesn't know what to do with her, he begins to worry about what will happen to Lynette at the summer's end. It seems to Jeremy that magic may be the only way to solve her problems.
School was hard for a kid with cerebral palsy like Eddie with a bully after him and a sixth grade teacher who couldn't understand his speech. Besides, Eddie needed a gift for his little sister's sixth birthday. He and his friend Gary discovered a great gift, a glass and brass blue-winged dragon, in the Treasure Shop. But the dragon scared his little sister. Then, after Eddie decided to keep the dragon for himself, strange things began to happen. Could the dragon be going after Eddie's enemies?
Vicky loves tennis and wishes Brenda, who's on the 8th grade tennis team, would hit with her sometimes. But when Brenda finally accepts Vicky as a worthy tennis buddy, Vicky's relationship with her closest friend, the totally non athletic Reggie, is endangered. How do you find the time for your friends when you need to devote it to your passion?
Leeann has to get the crochety head wrangler at the Arizona guest ranch where she now lives to let her ride the spirited Sassy. She also gets involved in the lives of some unusual middle school classmates and finds herself participating in a rodeo for special needs kids. In addition Leeann experiences her first romance.
Adding twelve year old Youn Hee to their family causes much more trouble than Caitlin and her mother expected. Youn Hee doesn't approve of the way her five year old little brother is being raised in his American family. Youn Hee holds her Korean heritage dear and doesn't approve of a lot of things American, not the least of which is her same age American sister, Caitlin.
Eleven year old Willie can't please his perfectionist father. If he isn't forgetting his chores or bringing home poor grades because he can't concentrate, his irrepressible dog, Booboo,is getting him in trouble. When a new girl, Marla, shows up in school, Willie tries to impress her, but as they become friends he discovers she has more serious problems than he has. Can Willie help Marla as well as himself?
Jessica can't believe that her lovable father has vanished from the world in a hit and run driving accident. She takes her sensible little brother with her through the state forest to find her father in the home where they used to live. There in the old climbing tree, what she finds is the strength to face what is.
"Lately it's begun to scare me that I'm my mother's best friend." Walking along the beach in the hot Florida sun, fourteen-year-old Kelly thinks about her mother a lot. There are no other kids around, and the routine of her grandparents' household is fitted to the needs of her senile grandfather. Kelly has plenty of time to wonder why her father shipped her off to Florida. She doesn't understand what is the matter with her mother that she has to stay in the hospital, or why her disapproving grandmother doesn't want to answer her questions.
As she remembers her mother's sad stories about shell ladies, Kelly realizes they are more than just fairy tales. For months there have been trouble signals, signs that she and her father haven't wanted to see. Is it her fault, Kelly wonders. Has she failed he darling mother? And which should come first, her mother's needs or her own struggle for independence?